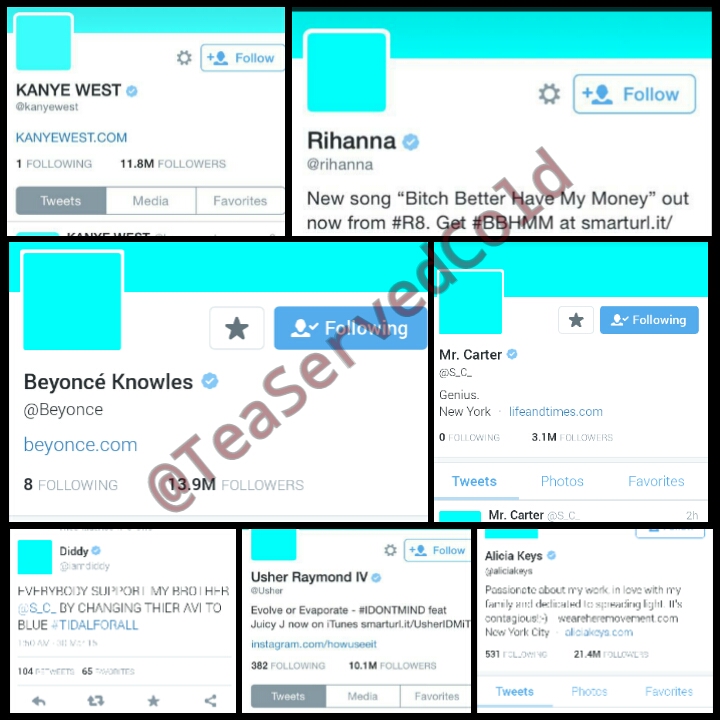 Unless you've been living under a rock for the past few hours, you've seen many of your favorite artists from Daft Punk and Taylor Swift to Madonna and Rihanna change their social media profile pictures turquoise blue in support of Jay-Z's new business venture. For the cool price of $54 million, the music mogul just acquired Tidal, a high definition music streaming service which features over 25 million tracks, 75, 000 videos, and loads of other content. Tidal was previously running in European countries under the name WiMP and was relaunched today by Jay-Z under its new name. Basically, Tidal is like Netflix, but better.
What's in it for YOU?
Tidal promises to change the music industry forever by offering subscribers exclusive content BEFORE any other music streaming service can receive them. Subscribers have the option of paying $19.99 a month for the Tidal HiFi which offers "lossless high fidelity sound quality, high definition music videos, and expertly curated editorials" or pay $9.99 a month for the standard Tidal premium offering the same options as the Hifi, but with standard sound quality.
What's in it for the artists?
Tidal also offers a bigger payday for artists versus other music streaming services.  According to TechCrunch.com, Tidal offers a profit twice as much for the artists who agree to exclusively stream their catalogs of music through Tidal. Big named artists have already signed up.  Jay-Z held a live conference today where artists signed over their music to #Tidal:
https://www.youtube.com/watch?v=ISRoAgmAVjI
The only issue for Tidal is being able to deliver that payout for artists. TechCrunch.com points out Tidal's pay per stream plan faces stiff competition from other music streaming services, such as Spotify, that offer similar services at a cheaper rate than consumers:
The big question is whether artists are willing to make the bet on payouts-per-stream over that of visibility: right now Tidal has only 35,000 subscribers paying $19.99 per month across the markets in which it is active, which include the U.S. and UK. By comparison, Spotify noted 15 million paying subscribers in January of this year. Tidal also offers a standard definition service at $9.99.
Paying $9.99 a month for exclusive music from your favorite BEFORE anyone else gets it doesn't seem like a bad deal. Will YOU be riding the Tide??
Check out Jay's promo ad for the launch of #TidalForAll:
Check out more footage of the artists' signing at Tidal's launch conference HERE:
https://www.youtube.com/watch?v=CmDq08HFNnw