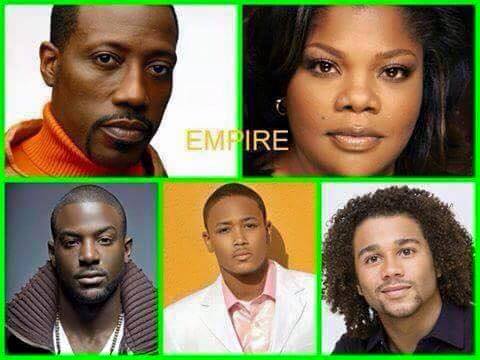 Since the success of FOX Network's Empire, everyone's coming out of the woodwork saying how they could've snagged a role in the popular series… First, it was announced that actor Wesley Snipes was set to play the character "Lucious Lyons", instead of Terrence Howard. Then, Mo'Nique sat down with CNN's Don Lemon and revealed that she was the original "Cookie", the character now played by Taraji P. Henson. Now, a picture of the alleged actors originally slotted to play the cast of the Lyons family is circulating on social media, which includes Wesley and Mo'Nique along with actors Lance Gross (as Andre, the eldest son), Romeo Miller (as Jamal, the middle son), and Corbin Bleu of High School Musical fame (as the youngest son, Hakeem):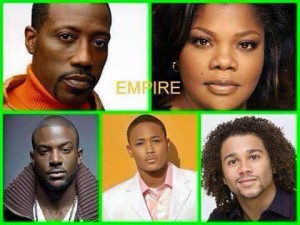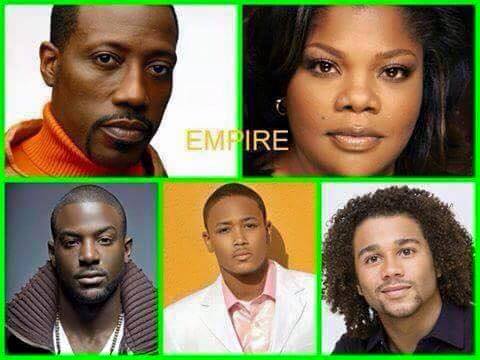 Let's just say we're glad the current cast made the final cut.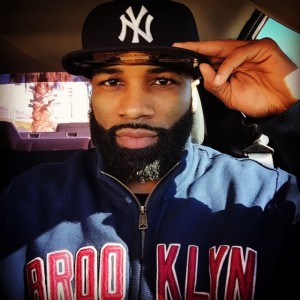 Andra Fuller, who stars in Adult Swim's series Black Jesus, revealed last week in an Instagram that he was also in the running to play the character of Andre on Empire, but Adult Swim came first, saying:
Quite a few of my friends keep saying that I should try to get on Fox's #1 Hit Show, 'Empire', well the truth of the matter is, at one point I was actually about a week away from playing the oldest son, Andre. I had already auditioned a few times and even met with Lee Daniels and the executive producers of the show. But the craziest thing happened, 1) Aaron McGruder offered me my role on BLACK JESUS first, and Empire was still about a week away from making their decision. And….of course you almost NEVER pass up your "Fa sho money, tryna get some mo' money", so I took the Black Jesus role. No regrets. And 2) They changed who was supposed to play 'Lucious', which also ultimately changed the "casting look" of his kids. Who was originally offered the role of Lucious?? Yep, Wesley Snipes.

PS: No shade, I think the casting ended up being perfect with Terrance Howard as the father. The 3 sons actually look like they could be his sons for real. And they all do a great acting job as well. #Kudos #LoveTheShow
Actor Trai Byers, who currently plays Andre on Empire revealed during his interview with Meredith Vieira that he almost became a PASTOR before being hired for the show. Byers said this was due to his frustration of not finding any work in the year of 2013 and because of that, he considered becoming a Pastor:
In 2013 I did not work at all just contemplating what I needed to do if I was walking in my destiny or not. Is this what Trai wants to do? I am a big Christian so I always talk about that or is what God wants me to do. I really contemplated changing going into something else. I am very passionate about God and religion and I thought maybe I am supposed to be a Pastor. I don't know. I am open to being used in any way that was aligned for me destiny wise and Empire came and right after Empire, Selma came. Then to look later down the line to see Empire was premiering on Wednesday night the same week on Friday Selma was going wide, you couldn't time it like that.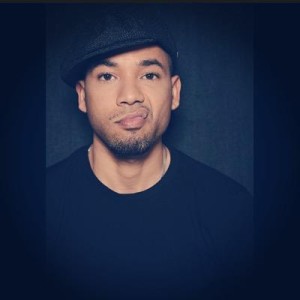 In other Empire news, actor Malik Yoba who plays Lucious's right hand man, Vernon, also did a little revealing of himself last week. In an interview with Black Film, Yoba revealed that Jussie Smollet and his character Jamal on the show share more in common than we thought: they're both GAY. In reference to Empire showing homosexuality and the controversy surrounding it, Yoba stated:
I think that our show represents a huge opportunity to stay in the culture beyond entertainment value and there's an intrinsic nature of you have the gay factor, right? So, obviously, Lee [Daniels, Empire's co-creator] is gay. That was an important storyline for him. I think it's important for people to see themselves. Even within the Black community. But if you aren't really, really taking it off of screen and making it live in the community in a significant way…like I know Jussie, he is gay, and he's very committed to issues around the LGBT community. He and I have a very close relationship. There a lot of things that I'm doing. I have a company called iconic32.com. We create or enhance cultural movements for social good using pop culture.
Although there was no malicious intent on Yoba's part, he probably should've consulted with Jussie before making comments on Jussie's sexuality. Jussie himself has flat out refused to admit to being straight or gay. In an interview with Sway in The Morning, when asked about his sexuality, Jussie responded:
I am not willing to confirm or deny anything, I live my life…if anyone is looking to put me in a box, then that's not going to happen. But if you really want to know about me, just watch, because I don't hide anything. I just don't choose to talk about my personal life.
We're not done with Empire talk just yet!!
During her sit down with Don Lemon, Mo'Nique revealed that Lee Daniels (Empire's co-creator) told her that she had been "blackballed" by Hollywood after appearing in Lee's film Precious. Lee denies these claims. The film also starred Gabourey Sidibe, who now plays "Becky" on Empire. While both Lee and Mo'Nique say they have love for each other, they disagree on whether or not Lee told Mo'Nique she was blackballed. Gabourey had this to say about her former cast member and current crew member fighting: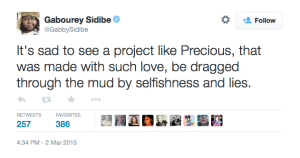 Let's try to keep the drama in the scripts, people! As usual, the Tea Maker will keep you posted on all things Empire…
Photo Credit via Andra Fuller's IG, Jussie Smollet's Twitter , and Mike Tunstall's Facebook