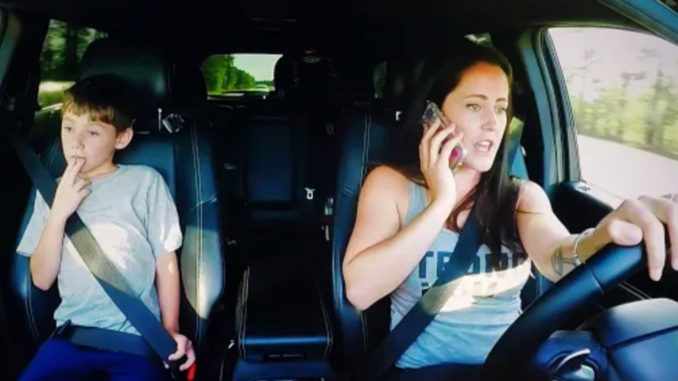 Teen Mom 2 star Jenelle Evans-Eason has had more run-ins with the law than MTV can keep up with, but her latest stunt, captured on this week's episode, takes the cake.
The 26 year old mother of 3 lost permanent custody of her eldest son, 8 year old Jace last year to her mother Barbara Evans after an ongoing custody battle. Barbara reportedly claimed Jace was afraid of Jenelle's then-fiancé, now-husband David Eason. Jenelle hasn't picked the best partners in the past, most of whom have criminal rap sheets as long as Jenelle.
E! Online reported Jenelle's array of arrests, saying:
In March 2011, a then 19-year-old Jenelle was arrested on a warrant and booked on two misdemeanors, assault and affray, for her role in a fight, footage of which surfaced on the Internet and sparked an investigation by the local D.A.'s office.

Months later, Jenelle was arrested again. This time, the MTV star was arrested for violating her probation, the Brunswick County Sheriff's Department confirmed to E! News.

In January 2012, Jenelle was arrested in Brunswick County for allegedly giving "harassing phone calls" and "communicating threats" to her former roommate. A week later, Jenelle was busted again.

Jenelle's other arrests over the years include an April 2013 arrest for alleged heroin possession, possession of paraphernalia and simple assault on then-husband Courtland Rogers, Evans' attorney, Dustin R.T. Sullivan, confirmed to E! News at the time. Later that year, she was arrested again on multiple occasions.

In February 2015, Jenelle was arrested in Myrtle Beach, S.C. for driving without a license, E! News confirmed at the time.
One would think someone who lost custody of their child would try to stay on the better side of the law, especially while that child is in their care, but…
During this week's episode of Teen Mom 2, The feisty reality star was filming a scene with her son Jace when she noticed a male driver tailgating her in a white Ford F-150, according to Jenelle. She slowed down to piss off the driver behind her, and when he finally pulls in front of Jenelle, he slams on the breaks, causing their two vehicles to nearly collide. Jenelle then follows the man home to take pictures of his vehicle. The two get into a heated exchange, and as Jenelle pulls off, she accidentally knocks into the man's mailbox.
She tried to pull off, but the male driver pulled in front of her and told her she's not leaving. He called the cops and tried to force Jenelle to stay put. When Jenelle tried to drive off a second time, he pulls in front of her again, knocking into the front bumper of her vehicle.
Jenelle then pulls her gun on the driver and demands that he let her leave. He then trails her as Jenelle speeds back down the dirt road and back onto the highway where she's later pulled over by police.
All of this occurred, while Jenelle's 8 year old son sat in the front seat.
Watch below:
The male driver, Robert Robinson, Jr. spoke to TMZ, telling them he's lucky to be alive. Robert says once he saw Jenelle trailing him home, he alerted his neighbors he was being followed. Both Robert and his neighbors were armed, but once Robert saw Jenelle's 8 year old son in the front seat, he opted not to brandish his weapon.