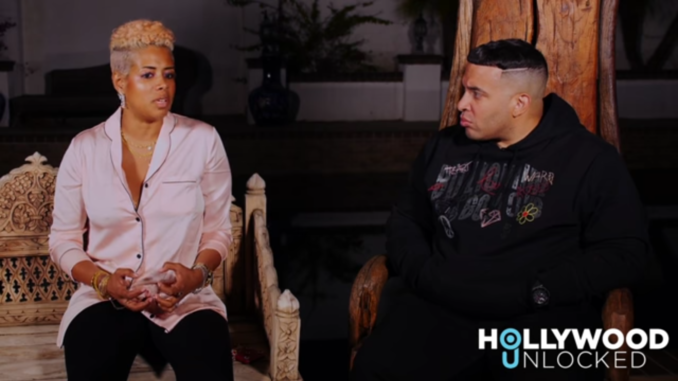 "I have edited myself for nine years and I woke up this morning and was like, 'not today'" – Kelis.
After nearly a decade of being bashed in the press, Kelis finally breaks her silence in an hour-long sit down with Jason Lee of Hollywood Unlocked.
In her interview, Kelis reveals Nas is an absentee father, who only learned 2 months ago which school his son attends. Kelis reveals when their tumultuous marriage ended, Nas used his money as power, refusing to pay the mortgages on their properties and letting their marital home go into foreclosure right after Kelis returned from birthing their son.
He also refused to pay child support for years, despite being court ordered, says Kelis.
"I didn't file for divorce because he cheated. He'd been cheating for 2 years and I knew that. It was because on top of all the other stuff, then you're gonna cheat?!"
According to the 38 year old mother of 2, her marriage to Nas was anything but normal. When the money flowed in, everything was fine; but when it slowed, Nas succumbed to the stress:
"We had like really intense highs and really intense lows. It was never normal", says Kelis, describing an intense high being a binge on spending, drugs and alcohol.
When the money slowed, the lows kicked in with drunken fights and doors being knocked off the hinges. Kelis remembers seeing pictures of a battered Rihanna leaked online, comparing them to her own bruised body:
"It was dark. It was really dark. There was a lot of drinking. There was a lot of mental and physical abuse… I probably would've stayed longer had I not been pregnant", says Kelis, who credits her son Knight with forcing her to leave her toxic marriage to Nas.
Kelis filed for divorce while still pregnant, saying she couldn't bring a child into their mess.
"Seeing her the way she looked and looking at myself, I was embarrassed. I was appalled. I was embarrassed", says Kelis. "I didn't want that to be my career", Kelis says, explaining she didn't want being a battered woman to be part of her professional image.

"I remember so clearly when the pictures came out, with that whole thing that happened with her and Chris Brown. The only way I can describe it, was like double dutch. I felt like 'do I jump in? Do I say it?' 'Cause I had bruises all over my body at that time. That day, I remember being in Atlanta, sitting in the kitchen, and I was like 'do I?' I wasn't ready to walk. I just wasn't. So I didn't say it."

"I'm not weak and I'm not like — I'm really private. I don't want people in my business. I felt like, 'this is my partner. I chose this. We're gonna do this, we're gonna make it work.' I stayed for years after that."
Kelis says Nas would drink so much, that he wouldn't remember the fight from the night before. The two would wake up, their house as tattered as they were and for Nas, it was as if it never happened. He would buy gifts as an apology for his violence. Kelis owns her part, though, admitting that she's a firecracker who always fought back:
"I'm 5'10. I don't back down. I'm extremely confrontational. So, I take my part in it, I do".