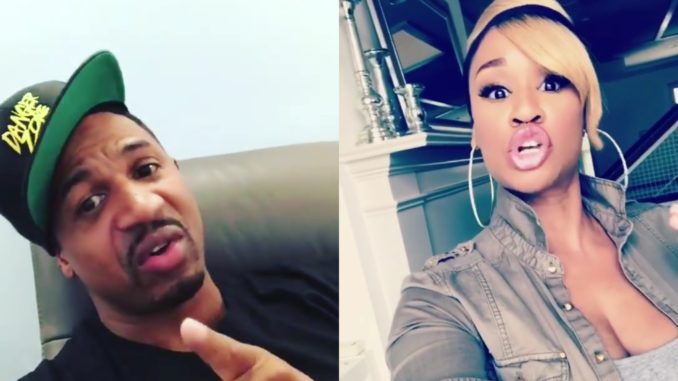 Did Stevie J have a one night stand with former Love & Hip Hop: Atlanta star DJ Traci Steele?
According to The Jasmine Brand, Stevie J dated the 39 year old DJ after she appeared on LHHATL's second season with her baby daddy DJ Baby Drew.
According to the report, she stopped dating Stevie when she found out he'd allegedly impregnated a 20 year old woman named Misha Perry while they were dating. Traci named her toxic relationship as the inspiration for her new book "30 Day Man Cleanse". Though she didn't say Stevie's name, she says she wrote the book after dating a man who "is a narcissist, a sociopath, and he's so scared to grow old, that he would date, hang out with, and possibly knock up 20 year olds, and he's a grandfather".
Sounds like someone we know.
Stevie J called in to Big Tigger of V103-Atlanta radio show to clarify his relationship with Traci, saying he never dated her, but they did have a "one off", aka a one night stand.
Traci's publicist PJ Hudson then responded with what appeared to be a video of Stevie J playing basketball with Traci's son, to show Stevie and Traci had more than a one night stand. The publicist addressed Stevie in the caption of the video, saying:
"Can you explain HOW you found the time to be around Traci and her only son (whom she is overly protective of) if she was just a One Off?? Didn't you ask her for a child? Should I provide those receipts also??

I usually don't get in the middle of "Celebrity Relationships" especially ones dealing with my clients ,but seeing what I saw, and knowing what I know and then hearing Mr.Jordan discredit my client like she was just another random groupie trying to get a come-up is utterly disgusting!!"
She added:
"[…] You should be worried about Ms.Perry and her growing baby bump… let's not forget you tried the same "that ain't my baby" tactic with @joseline and embarrassed her in front of the world when she was telling the truth about your anal pleasures, and your evil controlling ways towards women!!"
Listen to Stevie J call into the radio station to address the rumors below:
START AT 3:15 FOR STEVIE J CALL