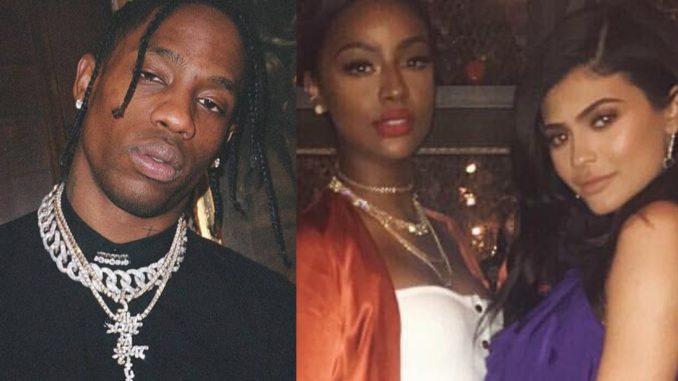 While the world rejoiced Kylie Jenner's not-so-secret pregnancy and birth reveal, one Twitter user pointed out how Kylie Jenner's relationship with her baby daddy Travis Scott is another example of the Kardashian/Jenner clan crossing out their Black friends in their quests for love.
Y'all remember Kylie Jenner had that beautiful black friend with purple hair… Justine Skye? I realized Justine unfollowed her last year, I thought it was bcus of the lack of support OR for the betterment of Justine's career but NO… Justine & Travis were once a thing! SMH

— 之 (@MasinElij) February 7, 2018
Enter Justine Skye. The gorgeous chocolate-covered songstress with velvety smooth skin who caught backlash for befriending the youngest of the culture vultures Kardashians/Jennners, even appearing in Kylie's makeup campaign for "the perfect nude for darker skin tones".
I can't believe y'all are asking "Who's Justine Skye?" 🙄 After y'all dragged her for a whole week after Kylie's lip-kit photo shoot. pic.twitter.com/81eElAPBdj

— 之 (@MasinElij) February 7, 2018
The 22 year old vocalist, who uninspiringly was dubbed "Kylie's best friend", reportedly dated Travis Scott while Kylie was still with Tyga. In fact, Kylie reportedly met Travis through Justine after Justine enlisted her then-boo and then-bestie to star in her karaoke-style music video for "I'm Yours" in January 2016. Other members of Kylie's crew including Kylie's other Black friend Jordyn Woods and Anastasia "Stassi" Karanikolaou also appeared in the video.
Justine shyingly discussed Travis during her interview with Hot97 in March 2015.  When asked if she was dating the rapper, Justine replied:
"We're just chilling, he's really dope— ", said Justine, catching herself before gushing about Travis's musical talents. "We vibe. We kick it. We have great energy".
While reportedly dating Travis, Justine helped Kylie heal during one of her many breakups with her then-on-again-off-again boyfriend Tyga:
"She's a strong girl", said Justine when asked about how Kylie was coping with her brief breakup with Tyga in May 2016.

"That's what I admire about her. She's like one of my strongest friends. She's so supportive of her friends and she's always rooting for them and always there to support them."
The two would get back together and break up again for good in April 2017, the same month she began dating Travis. That admiration ended for Justine when she discovered Kylie and Travis were dating, she unfollowed both of them on social media.
Oddly enough, Justine is still friends with and following Kendall Jenner and other members of Kylie's crew. Unlike Kylie's other friends, Justine also didn't congratulate Kylie on the birth of her daughter Stormi.
Snatching your friend's man isn't a foreign practice for the Kardashian/Jenner clan. After all, Kylie did date Tyga immediately after he ended his reported engagement to Blac Chyna, one of Kim's best friends who regularly appeared on Keeping Up With The Kardashians. Head of the Kardashian empire Kris Jen— Kim Kardashian-West nabbed Kanye despite being "friendly" with all of his past loves.
While Kim was still dating Reggie Bush, she sent inappropriate photos of herself to her "friend" Kanye West while he was still dating Amber Rose. Rose revealed this in an interview, saying she confronted Kim via email for attempting to cheat with her man:
"She was sending pictures, and I was like, 'Kim, just stop. Don't be that person,'" said Amber. "I thought at least she'd be woman enough to respond to me. She never responded."

"It's very important that us women stick together and we don't f*ck each other over like that".
Fast forward to now, Kim and Kanye West are married with 3 children.
Or perhaps Kylie took after Khloé who like Kim, reportedly plumped up her lips, butt and hips, and cornrowed her hair to nab her Black friend's man. Khloé dated 2 of her friend, Trina's exes back to back.
Or Kourtney, who's still dating Younes Bendjima after he reportedly dated family friend Sofia Richie — who's now dating Kourtney's baby daddy Scott Disick…
Jordyn should be cautious not to bring any potential baes around her clique. Despite Justine bragging about how much of a supportive friend Kylie is was, Jordyn complaints echoed a different sentiment.
During her appearances on Life of Kylie, Jordyn complained how she pretty much stops her life for Kylie, just for Kylie to leave Jordyn on the backburner to meet up with guys: