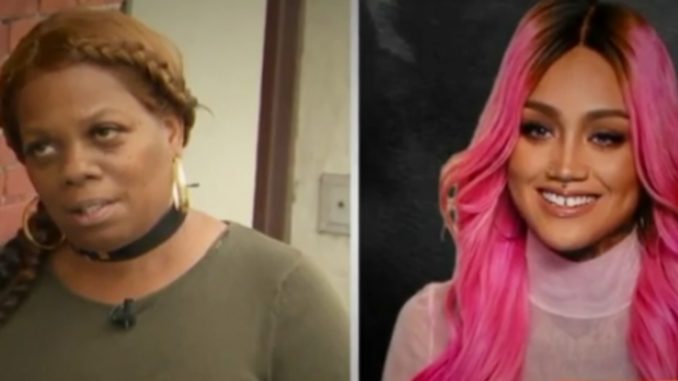 Black Ink Crew's Donna was dubbed the "TV Show Squatter" after she reportedly refused to pay rent for over a year and even moved her boyfriend Mohammed into the apartment against her roommate's wishes. When her roommate confronted her about her nonpayment and unwelcomed guest, Donna and her boyfriend responded by allegedly assaulting the roommate and trashing the apartment.
Donna's new boyfriend made an appearance on the show:
The full story will play out on next week's episode of Black Ink Crew when Donna's roommate pops up at the shop, leading to a brawl between Donna, her roommate and her roommate's daughter.
Angela Newman told Help Me Howard host Howard Thompson that she was introduced to Taylor "Donna Lombardi" Pickney through a relative and agreed to let Donna stay at her Yonkers apartment for 3 weeks while Donna was in between residences and looked for somewhere to stay. Over a year had passed and Donna had not only failed to find somewhere else to live, she also refused to help pay rent at the apartment and moved her boyfriend in. It's unclear why the reality star and primary cast member on VH1's Black Ink Crew had problems paying her rent.
Angela got a court order, demanding Donna to leave, which had little impact on Donna, says Howard Thompson. Angela even sought help with Black Ink Crew's producers, but when they reportedly refused to get involved, Angela contacted Help Me Howard. The host took his cameras into one of Black Ink's tattoo shops and spoke to Ceaser Emanuel, who offered to give Howard his executive producer's phone number.
The show's EPs decided to make this situation part of Donna's story line and on next week's episode, Donna and her roommate will go head to head (or fist to head) on Black Ink Crew.
Watch Donna's episode of Help Me Howard below:
OR HERE:

Watch a preview of next week's episode where Donna fights her roommate below: