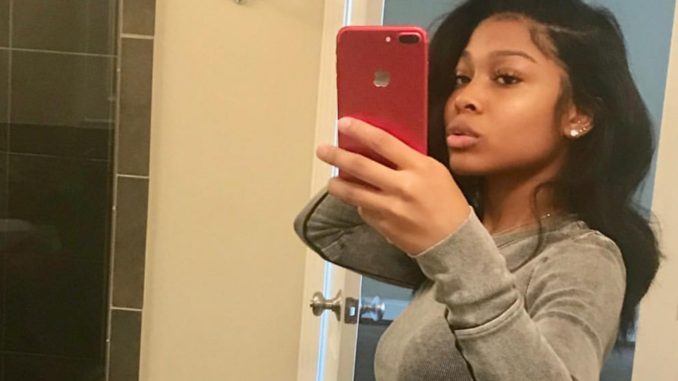 Social media star Jayda Amour, who is mostly popular as a hair and cosmetics retailer with over a million followers on social media got exposed on Twitter.
Jayda says the man responsible used her old cell phone and MacBook to hack her Twitter and post photos of the 20 year old entrepreneur. Some of the pictures include Jayda's bandaged buttocks after an alleged butt shot procedure and pictures of severe acne on her forehead. Jayda was able to gain back access of her Twitter, but not before blogs screenshotted the pics.
See them below:
Perfect example of why you shouldn't compare yourself to these IG models lol they exposed tf out of AmourJayda???? pic.twitter.com/qYlcwOCFJ5

— Mikayla (@mickeyalieno) November 28, 2017
Jayda's fans and followers backed her on Twitter, saying they'll continue to support, despite this being at least the 6th time someone has hacked one of her social media accounts. Others called her out for secretly getting a rumored butt enhancement when she previously told fans she'd be open with her journey of cosmetic procedures.
She reportedly discussed a previous breast augmentation publicly with her followers before. Jayda has since replied to the hate and the hacker.
See her thoughts below:
The gag is I ain't explaining shit ? but I will let y'all know a fuck nigga got my old iPhone and won't give It back

— AmourJayda (@JaydaAyanna) November 28, 2017
That iPhone he using is mine and so is that MacBook he using so he got all my shit? but that's the worse of the worse. So congrats you guys you all got the mfin TEAAAAA

— AmourJayda (@JaydaAyanna) November 28, 2017
My shit way phatter now ?

— AmourJayda (@JaydaAyanna) November 28, 2017
Since moving to Atlanta from Savannah, GA, Jayda has reportedly been involved a few public feuds, including a rumored beef with Lil Wayne's daughter and Growing Up Hip Hop: Atlanta star, Reginae Carter. Jayda has also been romantically linked to rapper Kodak Black, and is currently dating rapper Lil Baby.