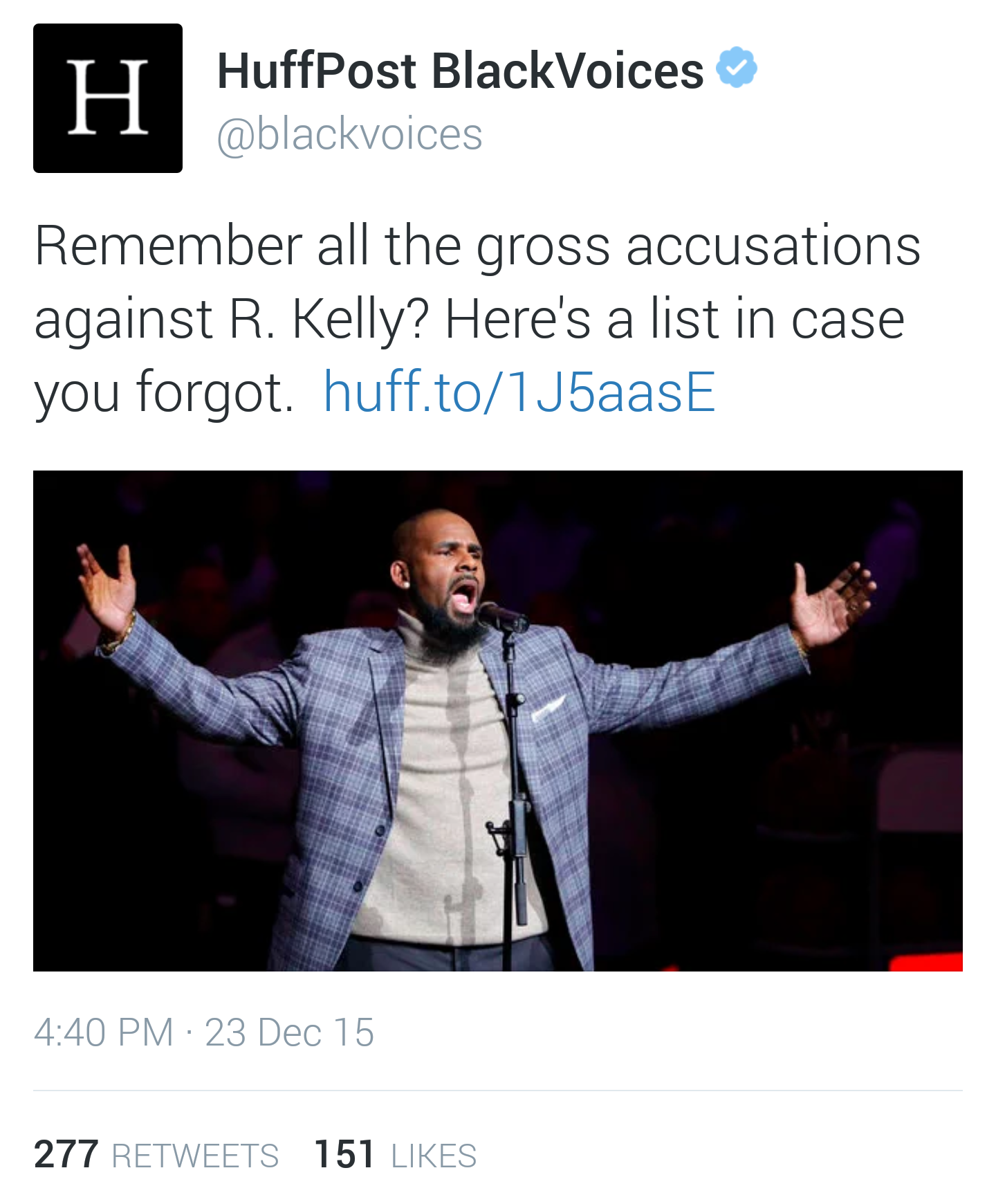 2 days ago, Buzzfeed broke the story of R. Kelly's new harem of women, who are surprisingly of legal age.
Reportedly, R. Kelly has a group of young women – aspiring singers – between the ages of 19 – 22 living in compounds from Atlanta to his hometown of Chicago.
According to BuzzFeed, the women are currently being held against their will and being told by R. Kelly when to bathe, when to eat, what to wear, and how to have sex with him.
One parent met R. Kelly with her daughter backstage at a concert in Atlanta in April 2015. The 50 year old R&B legend had listened to the young hopeful's CD and vowed to help her with her music:
"When we got to go backstage with R. Kelly, we stayed there over two hours," said J., the mother of one of the girls living with R. Kelly. "One-on-one with just me and my daughter and him. We went back to talk about the music. He listened to her CD. He was going to help her with her CD, and I was really impressed with him at first, because I have always been an R. Kelly fan."
They met again a month later, backstage at the Fantasy Springs Resort Casino in Indio, California, on May 23, 2015.
After leaving, J.'s daughter began talking to R. Kelly regularly by cellphone. In June 2015, she lied to her parents about visiting Georgia for a college tour, and instead went to R. Kelly's concert in Oklahoma City. After the show, the teenager had sex with R. Kelly for the first time.
The young woman complained that their "relationship" became less about music and more about sex. When she tried to bring up her music career, R. Kelly would change the subject, saying "I'm more interested in developing you. Songs are not an issue. We can always do a hit song."
He would then list a sexual demand he required from her regularly. Buzzfeed acquired audio from their conversations.
In June 2016, the young woman enrolled in summer courses at Georgia Gwinnett College in Lawrenceville and became closer to R. Kelly, who has a home in Duluth, Georgia. Her college roommate said the woman put R. Kelly on speakerphone during their conversations, before eventually taking her phone and giving her a new one, where he could control who she talks to.
The woman started to lose weight and cut, relaxed and dyed her hair to match her appearance to R. Kelly's liking.
Since her daughter linked up with R. Kelly, J. has only seen her daughter once, and she barely recognized her:
The last time J. saw her daughter was Dec. 1, 2016.

"It was as if she was brainwashed. [She] looked like a prisoner — it was horrible," she said. "I hugged her and hugged her. But she just kept saying she's in love and [Kelly] is the one who cares for her. I don't know what to do. I hope that if I get her back, I can get her treatment for victims of cults. They can reprogram her. But I wish I could have stopped it from happening."
J.'s husband Tim asked Duluth's police department to do a welfare check on their daughter at R. Kelly's home, but no one was there at the time.
During a second welfare check, both R. Kelly and the woman were both home and told police they did not want to be bothered. R. Kelly also reportedly told police the woman no longer speaks to her father because he was "threatening people". The father has since gone to the FBI to help get his daughter back.
Two former girlfriends of R. Kelly, Asante McGee and Kitti Jones, and R. Kelly's former personal assistant Cheryl Mack confirmed J.'s these allegations against R. Kelly. According to them, R. Kelly's group of live-in girlfriends are required to call him "daddy" and ask when to use the restroom:
The women in Kelly's entourage initially think "This is R. Kelly, I'm going to live a lavish lifestyle," said Mack, who worked as Kelly's personal assistant for a year and a half starting in 2013 and has remained in touch with some members of his inner circle. "No. You have to ask for food. You have to ask to go use the bathroom. … [Kelly] is a master at mind control. … He is a puppet master."

According to Mack, Jones, and McGee, the women living in Kelly's Duluth, Georgia, "guest house" or his Chicago recording studio last summer included:

A 31-year-old "den mother" who "trained" newcomers on how Kelly liked to be pleasured sexually. She had been best friends since high school with the girl in the videotape for which Kelly was tried in 2008. She recently parted ways with Kelly, these sources say.
A 25-year-old woman who also has been part of Kelly's scene for seven years.
A recent arrival, a 19-year-old model who has been photographed in public with Kelly and named on music gossip websites — a rarity among the women in his circle.
An Atlanta songwriter who began her relationship with Kelly around 2009, when she was 19. (She is now 26.)
And an 18-year-old singer from Polk County, Florida. Mack said the Florida singer is Kelly's "favorite — his number-one girl."
The three say the women can't even leave their bedrooms without permission. Their original cell phones were taken and they were given new phones where they can only call him and people he approved they can call.
Friends and family, not included.
R. Kelly controls the girls' social media pages. The girls are forced to wear jogging suits only because R. Kelly doesn't want their figures exposed. If they break any of Kell's rules, they get punished verbally and physically.
See on next page.