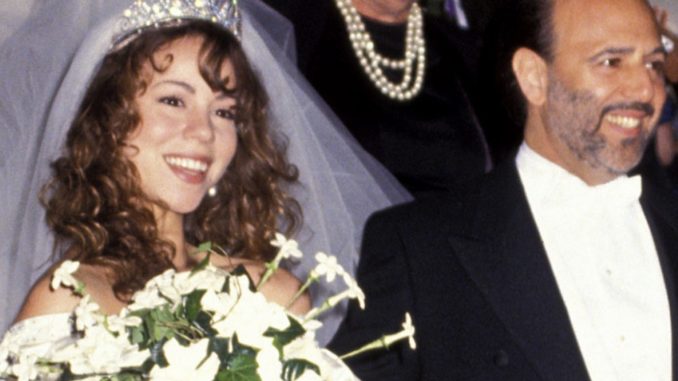 Legendary record label executive and Broadway producer Tommy Mottola threw shade at his ex-wife Mariah Carey and her choice to star in a reality show, Mariah's World, while defending her dreadful New Year's performance, saying he blames Mariah's team.
Mariah kicked off 2017 in the worst way after she forgot the lyrics during her live televised performance at the annual Dick Clark's New Year's Rockin' Eve With Ryan Seacrest. Mariah, feeling obviously defeated, refused to do the choreography and paced back and forth across the stage while her background dancers performed behind her.
While onstage, Mariah complained to the audience about her earpiece not working and put her mic down while the audio of her vocals kept playing, revealing that she was lip syncing the entire time.
See the performance below:
In an open letter to Page Six, Tommy says:
"MC is arguably the greatest pop voice to come along in the last three decades. She has had more number one hits than any pop artist in history!!! She is a global icon and a treasure with incredible talent not only as a singer but as a great songwriter."

On Her Epic Fail of a New Year's Performance:

"What happened on NYE could've happened to anyone! Yes, her technical people should've helped pay more attention to all of it so that there was no chance of that happening."

"It could have happened to anyone and it has, so everyone should just get off her back and leave her the hell alone and hopefully she will find her way to the right professionals for guidance. It's never about the fall, it's all about the recovery."

On Mariah's Reality Show, Mariah's World:

"My only advice is that she should hire more seasoned and respected professionals to surround her and help her with her career! I would never have encouraged her or guided her to do something like a reality television show!!!!! I don't get it!!"

"That does absolutely nothing for her integrity, her credibility, or her massive talent!! She should take a step back, think carefully and figure out what to do next. That is what she does best.. most certainly none of these issues or problems ever existed with her in her early days at Sony for the first 10 years when she skyrocketed to global superstardom!! Where absolutely meticulous and methodical attention was paid to every single detail and nuance that went on into her career!"
Tommy Mottola is responsible for discovering Mariah and launching her into super stardom after he was handed her demo at a 1988 CBS Records gala. Tommy, who was the head of Colombia Records, signed her to the label after listening to her demo on his way home from the gala. The two began dating and married in 1993, but divorced 5 years later.
Mariah Carey's manager Stella Bulochnikov clapped back at Tommy's "advice":
"Really? Tommy is a relic. Did he give you that statement from a rotary phone?"
To catch up on this season of Mariah's World, CLICK HERE.