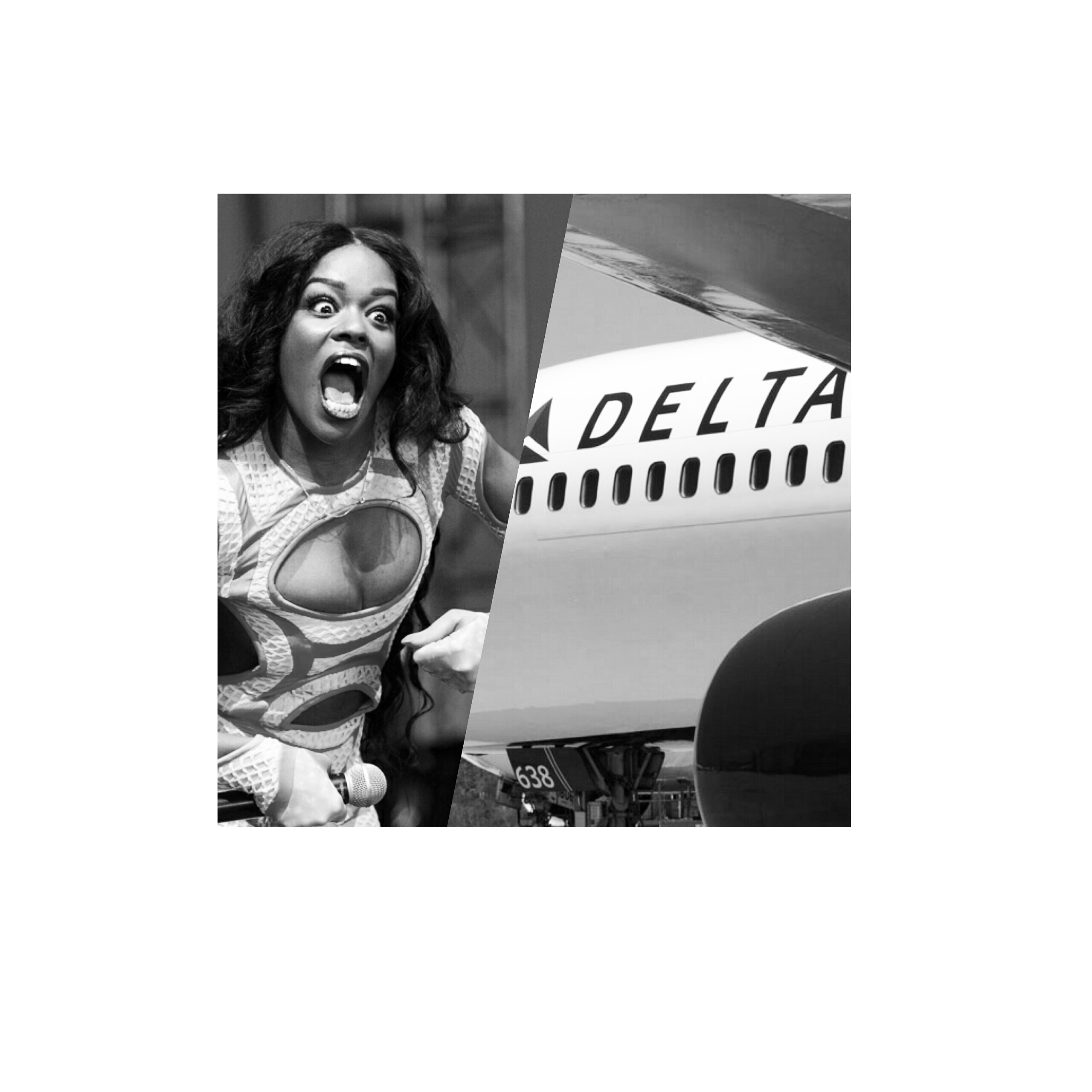 Poor Azealia Banks can't catch a break. From her random Twitter beefs with her peers to her Twitter rants on race in America, Azealia has quickly garnered herself a reputation as a loud-mouthed hot head. What's even worse is her arguments are usually valid, but her delivery? Waaay off.
Earlier this week, the rapper found herself in even more hot water, this time with Delta airlines. The rapper was aboard an overnight flight that landed around 1am Tuesday morning.  As passengers began to gather their luggage, Banks made a beeline towards the exit from her seat on the sixth row. A French couple on the third row blocked the aisle while trying to pull their luggage from the overhead bin.
When Azealia tried to squeeze past them, the Frenchman reportedly put his hand up to allow his wife to pass and Banks went ballistic. Eyewitnesses aboard the flight say Banks spit in the man's face, clawed at his shirt, and punched the man in his face. A flight attendant grabbed Banks' bag so she couldn't leave before authorities arrived. That's when a passenger picked up their phone to record:

The video starts off with Banks playing a game of tug-of-war with the flight attendant demanding that he give her her bag. The co-pilot came out as Banks tried to tell her side of the story before calling the flight attendant a "fucking faggot".
On Twitter, Azealia Banks lashed out at the reports of this story, claiming they left out one important detail: the French man hit her in her face. While passengers claim to not have seen the man strike Banks, I can only assume as he was putting his hand up to allow his wife to pass, his hand touched her face and that's when it got physical.
Followers of Banks on Twitter bashed her for her use of the gay slur, "faggot",  and she had this to say: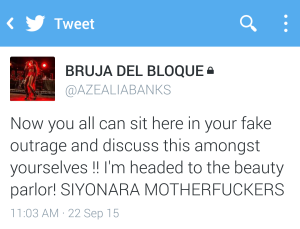 The French couple spoke with police and decided to not press charges as they were in the U.S. to celebrate a holiday and didn't want to go through the hassle of filing a report.
Ms. Banks, when your reputation for reckless behavior has surpassed your music, it's time to reevaluate your purpose in this industry.