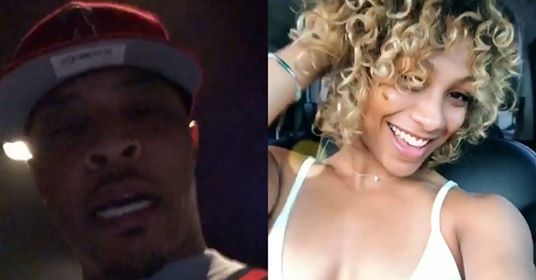 Last night, a fan allegedly captured footage of a still-married T.I. backstage at The Pavilion at Pan Am in Indianapolis, Indiana during a concert Saturday with a mystery woman.
The fan posted the video to their SnapChat page, allegedly showing T.I. smacking the woman on the butt as she sat next to him, and grabbing her by the waist as he pulled her closer.
Watch the video below:
The woman has since been revealed as 29 year old Greenleaf actress Asia'h Epperton, who plays "Tasha Skanks", the wife of rival Greenleaf pastor, "Pastor Basie Skanks":
T.I.'s wife, Tameka "Tiny" Harris all but confirmed the validity of the video by going to Asia'h's Instagram page and liking negative comments about Asia'h and T.I. disrespecting their marriage.
Asia'h has since cut off her comments on her Instagram page and responded to the backlash via her Instagram story, saying people are making something out of nothing and she has better things to do than to read comments from strangers who know nothing about her.
T.I., who's heavy in the blogs' comment section on social media daily, has yet to respond.
Last month, T.I. came to Asia'h's defense when she and two of her other actress friends were arrested at Houston's restaurant in Atlanta. According to reports, the three ladies entered the eatery as it was closing and asked to use the restroom. Restaurant employees felt the women were taking too long and asked an off-duty cop, who was working as a security guard for the restaurant, to remove the ladies out of the restaurant. When the officer entered the women's restroom, the confrontation turned violent and all three actresses were arrested.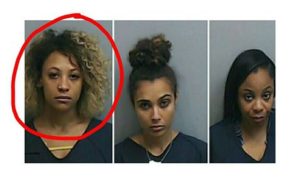 T.I. jumped online to defend his alleged boo and her friends, while calling out the officer involved in the physical confrontation. Watch that below:
Asia'h was also arrested once before for reportedly being involved in a shoving match with another woman inside a Los Angeles nightclub bathroom in 2010.
Prior to joining Greenleaf, Asia'h auditioned for American Idol in 2008 just days after her father passed away. She survived the audition process and made it to the top 16 before being eliminated. David Cook would eventually took home the top idol spot, winning the seventh season of the competition.