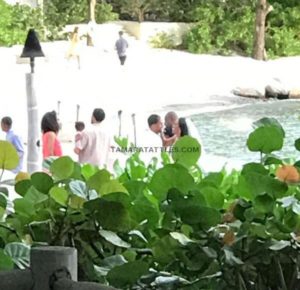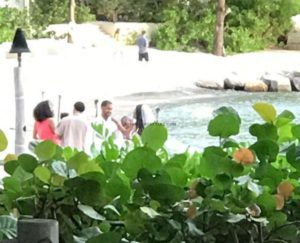 TamaraTattles.com broke the news Tuesday of Kenya Moore's secret wedding:
Kenya Moore is married. I've noticed that Kenya has been on a lovely island posting romantic photos with her man for over a week. I have known about the man Kenya has been dating for around 8 months, and that it was becoming increasingly serious. I have known that she wanted to keep things very private and that she would not be sharing the relationship on the show.

So when she started posting photos from St. Lucia where it was evident that she was there with her man I assumed that she was just there doing what she usually does, going off on a Caribbean vacation before the laborious filming of RHOA starts.

As it turns out it was much more than that. Tamara Tattles can exclusively report that Kenya Moore has married her boyfriend in Saint Lucia!!

I am often amazed that I have spies everywhere, but a Tamara Tattles Spy has sent photographs which appear to show Kenya getting married. Full disclosure, I have stayed at Anse Chastanet and it appears that is the location of the wedding.  I recognize those rocks at the end of the beach. However, the foliage in the photos don't really make sense for the guests who claimed to be staying on Jade Mountain which is the private, more expensive part at the top of the resort. It is a view from the garden rooms of Anse Chastanet.

I know for a fact that the couple has been at Sugar Beach the new hot spot at the foot of the Pitons for the last several days.  The thing that pushed this story over the edge for me is that Kenya's best friend Brandon Deshazer [wasn't] there.  No one gets married without their GBF.
Oddly enough, both Kenya and Brandon posted subliminal messages to their Instagram pages:
Continued on next page.