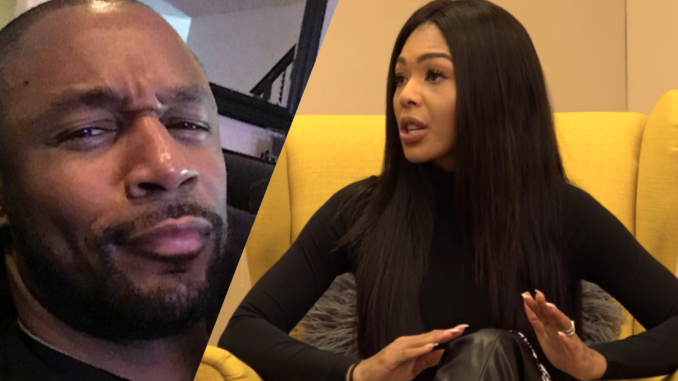 Love & Hip Hop Hollywood's Moniece Slaughter sat down with All Def Digital to discuss her affair with Tank that occurred a decade ago.
6 months ago, Tank sat down with LHHH star Jason Lee on Jason's Hollywood Unlocked radio show and slammed Moniece, saying she stalked him after a one night stand. Tank says he met Moniece, who was 19 at the time, at a party back in 2007 and was warned by his friend not to talk to her, as Moniece had a reputation for being crazy. Not much has changed.
Tank, who was 30 years old at the time, says he and a few of his friends approached her and Moniece agreed to have group sex with them that night. On the way to Tank's home, Moniece changed her mind and said she only wanted to sleep with Tank. Tank locked himself and Moniece in his bedroom while his friends waited outside the room. The two had sex, and the next day, Mo left wearing Tank's t-shirt, leaving her dress at his home. Tank soon learned why he was warned to stay away from her.
In the days after, Tank says Mo stopped by his home when he wasn't there and asked his neighbors to notify her if they see him as she was trying to retrieve her dress. She also told Tank's neighbors she was pregnant by him. She continued to stop by Tank's home, and when she couldn't catch him, she became angry and started vandalizing his home. According to Tank, Moniece egged his car, threw dog food cans at his house, threw a brick through his window, burned his grass, and harassed women Tank dated. The harassment finally ended after Moniece caught Tank at a party, threw a drink on him and led him on a chase down the streets of Hollywood where they both wrecked their vehicles.
Watch Tank's interview below:
6 months after Tank's interview, Moniece has responded. She admits to being present when Tank's homes and cars were vandalized, saying she was the "get-away driver" and her friends did the vandalizing. She also admits to throwing a brick into Tank's window with a note attached to it. She says she was pregnant by Tank and got an abortion, while saying she was one of the many women Tank cheated on his longtime girlfriend Zena Foster with.
Damn, Moniece really is crazy. Watch her interview below: