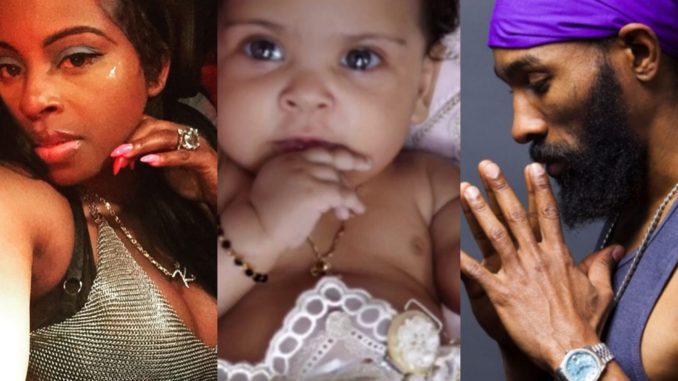 Foxy Brown finally posted a picture of her beautiful baby girl she gave birth to earlier this year.
Back in March, Wendy Williams broke the news that the 39 year old femcee gave birth to a baby girl and that the father of Foxy's daughter is a "reggae star". Wendy didn't spill the name, but Foxy let the cat out of the bag, posting a video of her on-again-off-again lover Spragga Benz. Foxy also posted a video wishing Spragga a Happy Father's Day, along with her brother and rapper Anthony "AZ" Cruz via Instagram:
Spragga, whose real name is Carlton Errington Grant, is a dancehall music icon hailing from Jamaica. The 48 year old DJ is the father of two, a daughter named Shanice Grant who just graduated from Villanova University in Pennsylvania last year, and a son Carlton, Jr. who was killed by police at age 17 years old in 2008.
The teenager and a friend were riding a bicycle in Kingston, Jamaica when they were stopped by police. The cops reportedly told the two to run and shot them in the back. The cops denied the story, claiming Carlton, Jr. and his friend fired shots at them first and the cops returned fire. Carlton was unarmed. The cops claimed Carlton, Jr's friend must've shot him while running. The cops involved, Contsables Audley Lawrence and Andre Hare, were acquitted of charges related to the murder.
Since then, Spragga has been vocal via social media on the deaths of unarmed Black men at the hands of police. Spragga also created a foundation in memory of his son, called the "The Carlyle Foundation", a program providing scholarships and computers to excelling Jamaican students, according to Spragga's website.
Foxy posted a video of Spragga discussing their relationship, with the caption "Daddy?". She then posted a snippet of Wendy Williams revealing Foxy gave birth to a little girl fathered by a reggae star, followed by a video of her beautiful baby girl, she calls "Baby C".
Watch those below:
Foxy met Spragga 18 years ago in Trinidad and he told her then she would be his wife. Since then, the two were "inseparable", said Foxy, even getting engaged in 2001. Their engagement ended 2 years later, but the two continued to date on and off throughout the years. Whether they were on or off, Foxy kept tabs on her man, even attacking women who she thought were dating him… like singer Ashanti. The snippet of Spragga's interview on Foxy was published last year by 247HH.com. Watch that below:
Spragga also spoke on Foxy in an interview with VLadTV after the broke up in 2010. Watch that below:
Their chemistry is undeniable. Watch them flirt with each other in this throwback video from 2001 from their track "Oh Yeah / Tables Will Turn":