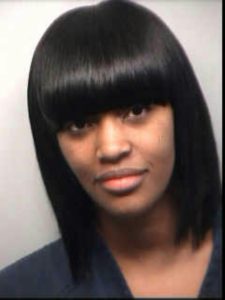 According to Bossip, Saniyyah has a lengthy history of theft and scamming. After her Basketball Wives episode aired, she addressed her past involving a 2011 hotel scam she was arrested for in Atlanta.
"Meek Mill's former stylist Saniyyah Samaa was arrested last night in Atlanta on Grand Theft charges. According to reports, this arrest is par for the course for the Philadelphia native.

The Philly jawn has allegedly been involved in every crime from credit card scams to drug trafficking."
Saniyyah explains her 2011 hotel scam on Instagram:
To address all these "theft" rumors in my comments… In 2011 I stayed at a hotel in ATL on a "hookup"… the room was in someone else's name (on their hookup) but my ID was used to check myself in. Me and (a close friend at the time) stayed there for approximately 4 or 5 days and ran up a room service bill. We left the hotel with unpaid charges. Being as tho my ID was on file, they put the charges on me. I later found out I had a warrant for this. Time went by and I was no longer friends with this person….. In 2012 I was staying in ATL at another hotel and posted a pic with my location. A person that I once considered a FRIEND contacted Atlanta PD and told where I was staying. I was arrested early that next morning for THEFT OF SERVICE!!! This same FRIEND waited for my mug shot to be posted online and blasted it all over social media along with a made up story that I robbed Meek Mill, stole from him and a bunch of other bullshit. In an attempt to slander my name or embarrass me. ??‍♀️ I still, til this day, do not know what I did to deserve this!! However, for the past 5yrs I've had to live with these LIES and wear the label of a THEIF on my back. I've also waited 5yrs for Meek (another person I considered a friend) to speak up for me. Being as tho the rumors were NOT TRUE!! That day never came. I brushed it off and went on living my life. My career as "celebrity stylist" was hindered.. but that never stopped me!!! I was given the opportunity to be apart of a hit tv show "BASKETBALL WIVES LA"… not as "The ex of…" "The baby mother of…" "The wife of…" but SANIY'YAH "CELEBRITY STYLIST" to the stars!! LOOK AT GOD!!!! ?? I have the opportunity to tell MY STORY to the WORLD and finally clear my good name!!! "You prepare a table before me in the presence of my enemies… you anoint my head with oil… my cup overflows" Psalm 23:5 ?? God never said weapons wouldn't form. He just promised they wouldn't prosper… ??‍♀️?? LOOK AT ME NOW!!! ? #GodsChild #iAmSaniyyahSamaa #BBWLA6 #BasketballWives #SLAYniyyah ???
Pictures via Instagram & LSA.