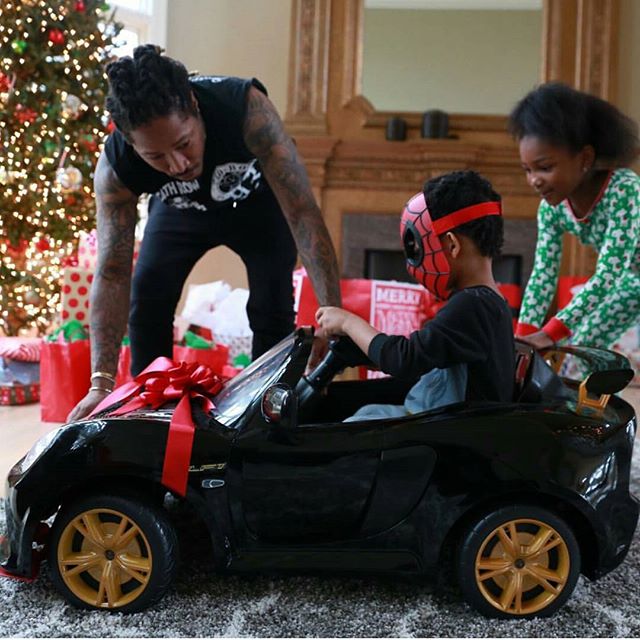 In an interview with Zane Lowe to promote his new album HNDRXX, Future discussed how his past relationship with Ciara surpassed his career (yes, he's still talking about Ciara) and how he doesn't want fans to compare this album to the "What a Time to Be Alives or the Dirty Sprite 2s", as they are 3 separate lanes.
What has women up in arms is Future's attitude towards being a working father. The 33 year old rapper is a father of 5 (4 biologically, plus the elder son of Future's baby mama Brittni Mealey, who Future claims as his own).
Future credited trading time with his kids for time in the studio as to why he's able to push out music so quickly and says his kids have to make sacrifices because his dad is a superstar who has other obligations:
Zane Lowe: "You're so focused and so obsessed with making music, it's clearly the driving force in your life."

Future: "I'm definitely obsessed with making music, I'm addicted to the studio…"

ZL: "Is it hard being a dad and a human being when your addicted to your passion?"

F: "You gotta sacrifice so much, even the times with your kids. You have to just do music and you're becoming this entertainer and so many people require so much of your time for different things, different obligations you have to make money, or just different obligations you have as a person in whatever the situation may be.

You gotta leave town and miss out on certain things, that you feel like you should be there. Like, your dad should be a part of this moment. I gotta be like, 'Damn, man, your daddy really a superstar and entertainer.' My kids gotta understand, they gotta make a sacrifice, having a superstar dad. My career choice is my career choice. Just stepping out of that zone, to be able to be a provider.

I understand my position as a provider and my role as a dad also…Just being able to be comfortable with it. Everybody wanna be a super dad and the best dad ever but sometimes, I'm just realizing that I'm not perfect."
*Skip to 3:40 mark*
If Beyoncé, Britney, Monica – any female celebrity with kids said something like –
"My kids gotta sacrifice to have a superstar mom, I gotta miss moments where they feel like I should be there because I have other obligations, other people require my time. My career choice is my career choice, and they gotta understand that"
– we'd be calling her a deadbeat, urging CPS to investigate cases of child neglect, and boycotting her music.
In this Europeanized patriarchal society where in 2017, a woman is still questioning if she can have a career and a family, men are getting a pass for doing the bare minimum in child rearing.
Women are expected to be Jane Cleaver in the home, a boss bitch in the workplace and still find the energy to be Jesse Jane in the bedroom.
Despite the "progess" women have made over the last few decades, men are still stuck in the 1950s, only required to see their kids in passing as long as they're bringing home the bacon.
Future is catching a lot of flack from female fans, but for the number of women pretending to be outraged, there are just as many women only requiring dick, half the rent payment, and 2 hours max of "father-son time" with the kids – while they as women struggle to find the energy to balance work, motherhood and marriage.
Why haven't we required more from our men, as partners and fathers?
Why haven't we told men to man up?