We don't believe you, you need more people!"
Back in 2003, Nona, whose real name is Nicole Milburn landed in jail after she falsely accused football player Scotty Anderson of rape: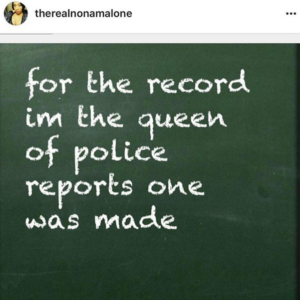 A 22-year-old Detroit woman was charged Tuesday with falsely accusing Detroit Lions wide receiver Scotty Anderson of raping her.

Wayne County Prosecutor Michael Duggan announced the four-year felony charge at a press conference Tuesday morning. Duggan said the charges stem from a Sept. 17 incident at Anderson's Dearborn apartment that spilled over into the early morning hours of Sept. 18.

The accusing woman, Nicole Milburn, who is a dancer at a Detroit gentelman's club, went to Anderson's apartment with two friends on Sept. 17 for a night of drinking, Duggan said.

At some point, Anderson had consensual sex with Milburn's friend, but never with Milburn, Duggan said.

At 11 p.m. that night, Anderson confronted the women about $700 in cash missing from his bedroom. At that point, one of the other women told Anderson that Milburn picked up his discarded condoms from his bedroom and allegedly put the contents inside of her, Duggan said. -eek-

The reason, according to Duggan: "Apparently, either to hopefully cause herself to be pregnant and have a child support claim, or potentially, as it turned out, possibly to support a rape claim."

Anderson and his 18-year-old cousin found three used condoms in Milburn's back pocket, Duggan said. They also found some of the stolen money stuffed into her hair, he said. 😆

"They demanded the money back, at which point Ms. Milburn ran out into the hallway of the building, screaming rape," Duggan said.

Neighbors called 911 and Dearborn police responded. Police also found some of the stolen money hidden in Milburn's car, Duggan said.

"This is disturbing from so many perspectives," Duggan said. "We are seeing more and more people's reputations being tarnished with false felony reports. This also hurts every woman who is raped and goes through that trauma because it causes other women to pause and wonder whether they're going to be believed when they see somebody who is caught being a liar."

Duggan said the two other women who accompanied Milburn confirmed that she told them about her alleged rouse with the condoms.

Milburn is expected to turn herself in and be arraigned this week, Duggan said.

Anderson, a 3-year veteran of the Lions, is currently on injured reserve with an ankle injury.