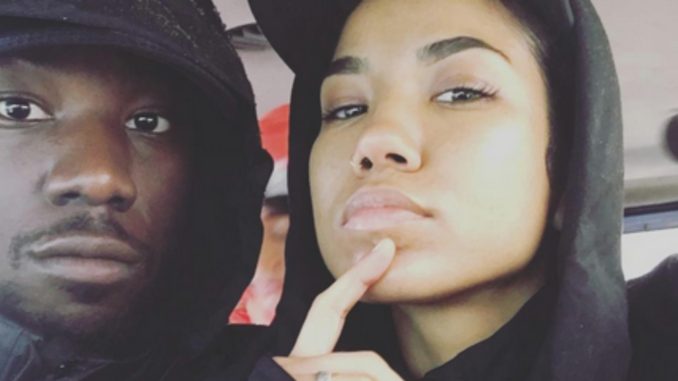 Looks like Jhené Aiko pulled a Nicki.
In a series of clapbacks on Twitter, Jhené Aiko opened up about her marriage with music producer Dot da Genius, whose real name is Oladipo Omishore. Though he's referred to Jhené Aiko as his wife since 2014, the two didn't actually wed until late 2015, says reports. On March 16, 2016, Dot wished Jhené a happy birthday in a picture posted to Instagram of their wedding ceremony, revealing the two had secretly married: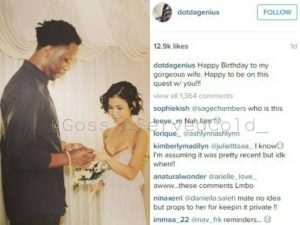 That happiness soon faded as a joint interview of Jhené and rapper Big Sean was published, uncovering the two had a lot more in common than a music group. The two flirted their way through the entire interview and even discussed dating each other in the past. Finally, when asked by the interviewer if the two were currently dating each other, Jhené and Sean said they were "enjoying each other's company".
The two embarked on a tour together, promoting their joint album for Twenty88 and shocked fans as the married-Jhené would kiss and caress Sean during performances. She also reportedly expressed her love for him online, referring to him as "Daddy". TMZ reported Jhené filed for divorce from Dot da Genius on August 11, 2016 after less than a year of marriage. Jhené cited "irreconcilable differences" as the reason for divorce and has asked the judge to deny Dot spousal support.
Fans jumped in the singer's mentions, calling her a hypocrite for creating the image of a brokenhearted girl when she herself was an adulterer. For the first time ever, Jhené replied, revealing Dot's lack of respect led her to file for divorce. Dot jumped in the conversation, responding to rumors that he abused Jhené during their marriage.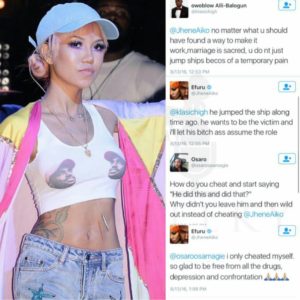 See more on the NEXT PAGE.